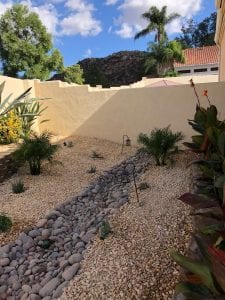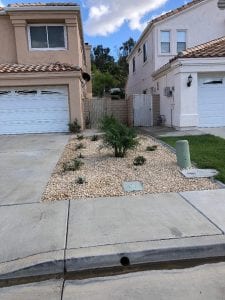 Drought Tolerant Landscape – G & J Landscaping Inc.-
Our company loves revisting a home to work on different projects. We had converted the backyard in a prior project, now we were able to convert the front yard. From bare dirt to full on drought tolerant landscape allowing to save on the water bill while enhancing your home.
The dry river bed gave a beautiful touch to gold gravel that was installed. We added a drip irrigation for each shrub that was planted. The drip irrigation system allows to save water and nutrients by slowly dripping water to the roots of the plants, either from above the surface or below, buried. We installed lighting all over the landscape for the night. Allowing all areas to show off in the night. A great landscape conversion to drought tolerant landscape with a loyal recurring customer.